!- ************************************* -> <!- Created by: Tim Corrie Jr. -> <!- ************************************* ->
Home page
Borrowed original circuit from a ham operators website, Nyle Steiner's cool site. only major mod so far was a 0.02uf filter cap after the diode detector for the crystal earphone
Without the negative resistance device, this signal is not visible on scope, and this station can't be heard in my basement. The zincite is on steel from a galvanized strap, biased and tied across the LC tank circuit with a current limit (2.2Kohm) resistor.
Note the homemade variable cap (a stack of 3x5 cards aluminum foil and tape. Every other card is stapled to a threaded wooden block.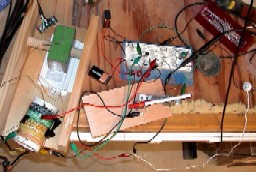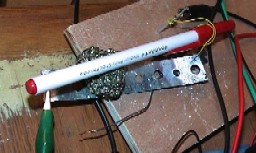 Another Homemade Variable Capacitor, this one is made from CD's note, one needs to sand down to the metal layer but not through it. The connections are using lock washers and nuts on a bolt. I think this cap was 24uuf-540uuf.