Home page
Next arc rectifier attempt.
How Not to, and how to create a 22kv dc supply
I take no responsibilities for anything resulting from someone else trying any of this, high voltage is highly dangerous, and I'm lucky to be alive. i.e. it can KILL YOU, you have been warned.

Layout of stuff needed, decided it'd be more trouble that it was worth to put in chokes.

Plastic built up so every joint in the bridge would be below oil even if it wasn't completely full.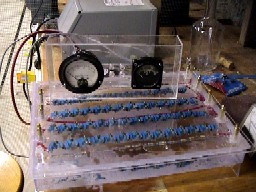 Plastic lid is leaking, thats ok. I have a silicone 'gasket' built up around the edge I'll make a clamp for it, meters are done and ready to connect to divider network (also under oil in hv bridge container).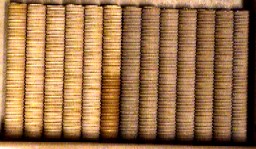 After examining the leaks and points where it'd be safe to crank down some clamps I made 18 wooden screws. Turns out one was in a bad place so it was never used.

Frame glueup.

Assembled and clamped up no more oil leaks.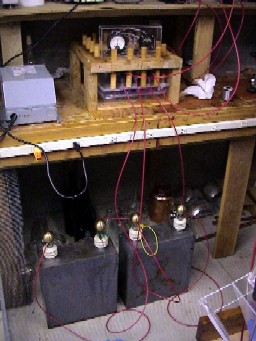 Test running the supply at about 60% power. The brass balls don't do anything at this voltage but they look cool.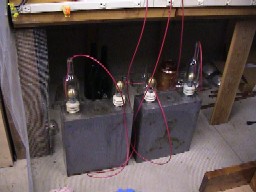 Note the wine bottles with the bottoms cut off to prevent my shins/knees from getting zapped also to deter the kids from getting shocked.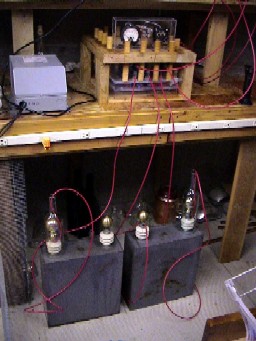 Completed supply split 22kv (+11kv/-11kv)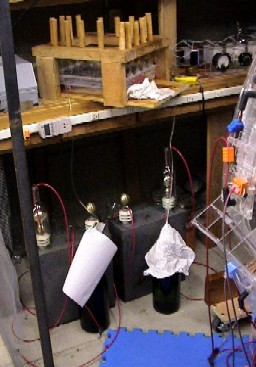 Turning the variac on with the power set at something other than 0 can be bad for the diodes. The resulting voltage spike took out at least 2 of the 4 legs of the bridge.

There were 3 bridge rectifiers tried before this.  They only had 24 1kv diodes 
each, this was not nearly enough of a margin, even with 10M and .001uf bypass 
on each diode.  My friend Bill says 100% margin of safety.  After burning out
hundreds of diodes I realized they'd have to be under oil to prevent corona discharge
off a soldered tip from causing the voltage drop across a diode to exceed 1kv.

Now there are 54 1kv diodes in each leg.  Each one is bypassed with 10M and .001uF
In addition to this I added 14.85Mohm resistor divider so I could use two 150v 150Kohm
meters.  These 14.85Mohm resistors are made up of 14 1M 470K and 390K each.  After
hours of operation sometimes at full power there is no change in the resistors (even though
they are mostly 1/4 watt.) Nothing gets even slightly warm, and no sign of any degredation
or voltage changes (but there never is until its too late).

The meters each have 2 neon bulbs in series across them, these fire if the 
voltage exceeds about 160volts (16kv at the supply).  Highest voltage I can get 
is 11.5kv for + and - half (115volts on the meters).  The high conductance of 
neons that are on will cause whatever capacitance created the spike to discharge 
through the divider and they should go off again.